Michael Vaughan reveals reasons behind England's declining performance in the World Cup 2023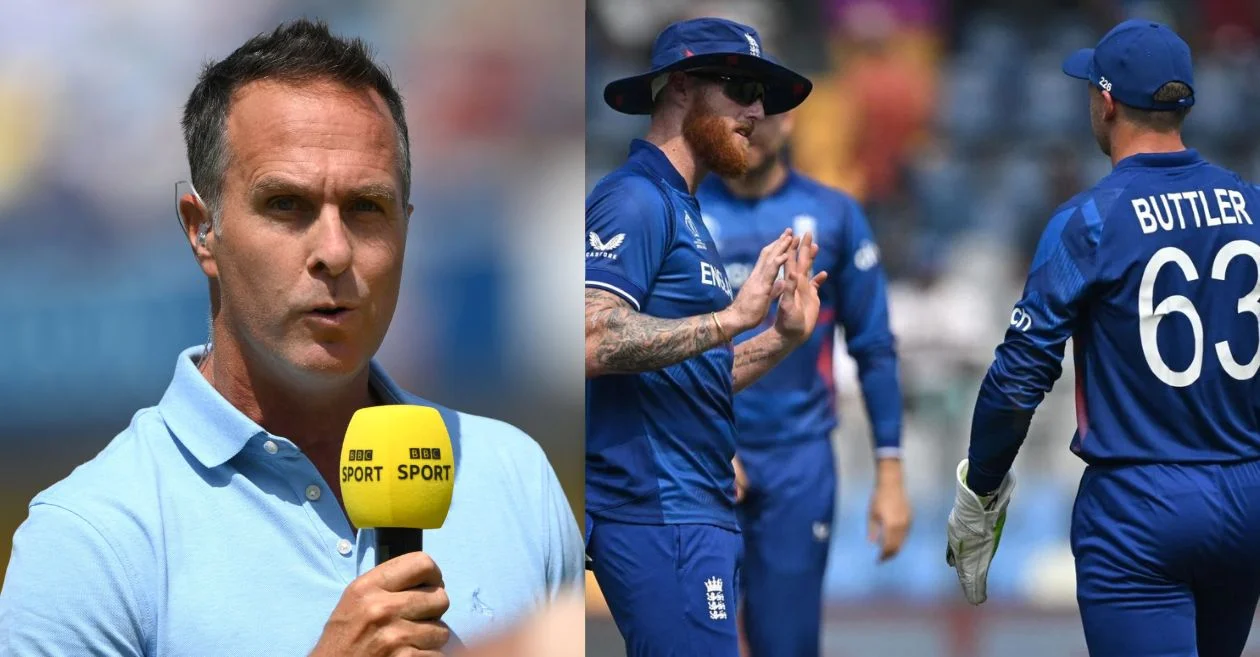 Defending champions England are having a tough time in the ODI World Cup 2023. With only a solitary win after 4 games, the Jos Buttler-led side is at the bottom spot in the points table. The current situation see them perilously close to an untimely departure from the tournament.
Their prospects have taken a severe hit following a demoralizing 229-run loss to South Africa. This resounding defeat has prompted former England captain Michael Vaughan to offer his insights into the factors contributing to the team's disappointing performance.
Crushing defeat at the hands of Proteas
In a one-sided encounter, England's bowlers struggled to contain South Africa's onslaught, allowing them to post a mammoth total of 399 runs in their allotted 50 overs. South African batter Heinrich Klaasen was the standout performer, smashing a remarkable 61-ball century, and he partnered with Marco Jansen for a formidable 151-run stand.
Facing an imposing target, England's batting lineup faltered, managing just 170 runs before being bowled out. The Proteas' bowlers, inspired by their team's formidable total, delivered a disciplined performance that dismantled England's batting order.
Michael Vaughan's insights
Vaughan has now come forward with insights into England's World Cup struggles. In his column for The Telegraph, he candidly expressed his concerns about the England and Wales Cricket Board (ECB) prioritizing other formats over one-day cricket following their 2019 World Cup triumph.
Vaughan highlighted that England's key players have had limited opportunities to play together in One Day Internationals (ODIs) since their World Cup victory. This lack of cohesion has significantly hampered their ability to form effective combinations and strategies for the 50-over format.
"From 2015 to 2019, England focused on ODI cricket and cared about it. They played 88 games between World Cups. They won 54 and lost 23. They used 34 players, six of whom played 70-plus games, seven more played 40-plus. This World Cup cycle has been very different. They have played 42 ODIs, winning 22 and losing 16. They have used 44 players, and only four of those have played more than 25 games," wrote Vaughan.
Also READ: World Cup 2023 – Nasser Hussain gives his verdict on England after their crushing defeat to South Africa
England's diminished World Cup hopes
In his assessment, Vaughan pointed out the lacklustre performance of key players such as Jos Buttler and others, labelling them as a significant disappointment for the team's 2023 World Cup campaign. He went on to express doubt about England's chances of progressing to the semi-finals after their thrashing by South Africa.
"After their thrashing by South Africa, England may not be officially out of this World Cup, but it's almost impossible to see them making the semi-finals. Too many players have not played well for a long time, because their involvement has been stop-start. Jos Buttler is one of them. I am watching thinking there is no substance to any of the partnerships, with bat or ball. How has it got to the stage that four games into a World Cup?," added Vaughan.
Also READ: World Cup 2023 – England announces Reece Topley's replacement for the rest of the tournament
#Michael #Vaughan #reveals #reasons #Englands #declining #performance #World #Cup