World Cup 2023: Netizens react after Virat Kohli and Suryakumar Yadav's terrible mix-up against New Zealand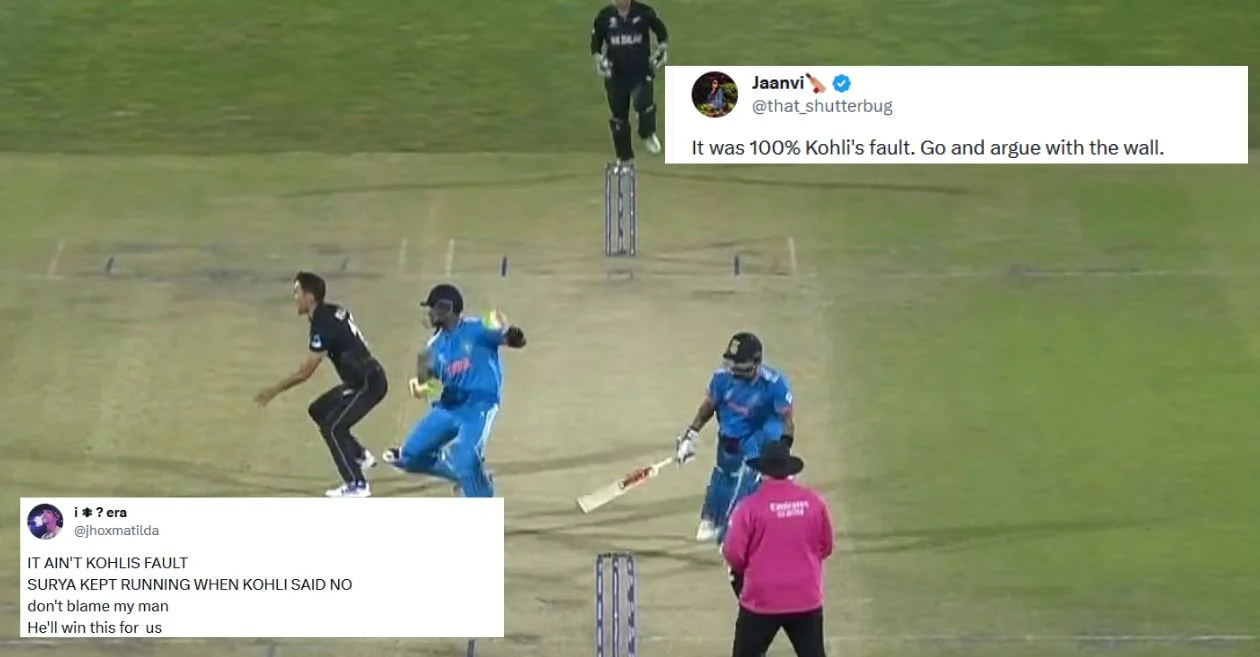 During Suryakumar Yadav's maiden ODI World Cup match for India against New Zealand at the HPCA Stadium in Dharamsala on Sunday, an unexpected run-out incident occurred involving him and Virat Kohli that sparked mixed reactions from fans. Suryakumar managed to score just two runs off four balls, and his CWC debut became memorable for an unfortunate reason.
Suryakumar Yadav's opportunity as Hardik Pandya's replacement
Suryakumar seized the opportunity to play his maiden CWC 2023 match when Hardik Pandya was sidelined due to an injury sustained in the previous game against Bangladesh. However, Suryakumar's promising debut was marred by a disastrous mix-up with Kohli, resulting in his run out.
The run-out incident between Suryakumar and Virat Kohli
The run-out incident transpired during the 34th over of India's run chase. Suryakumar pushed a delivery from Trent Boult towards the cover and initiated a run, but Kohli hesitated, waiting for the ball to clear the fielder. Mitchell Santner displayed remarkable fielding skills, forcing Kohli to return to the non-striker's end, while Suryakumar found himself stranded. The ball eventually reached wicketkeeper Tom Latham, sealing Suryakumar's fate and leaving him visibly devastated.
Also READ: World Cup 2023: Sanjay Bangar opens up about India's heartbreaking 2019 CWC semi-final loss against New Zealand
Fans opinion on SKY's run-out
Fans were quick to formulate their own theories and express their opinions on social media platform X regarding the run-out incident. Some believed Kohli's hesitation was the primary factor, while others argued that a more decisive response from both batters could have completed the single.
Here's how fans reacted:
It was 100% Kohli's fault. Go and argue with the wall.

— Jaanvi🏏 (@that_shutterbug) October 22, 2023
Making surya run out, and denying couple of runs 2 times when jadeja came to the half of the pitch. Surely Virat kept in his mind after his 50 even he tried his best to hit selfish century pic.twitter.com/75IBEBnQwu

— RK (@MahiGOAT07) October 22, 2023
thank God this world cup has finally exposed selfish kohli that how he can reject any double of jadeja how he can make any Sky Runout for his selfish 100 🤣

Crowd live reaction on kohli prioritizing his 100 over Team Win 🔥 pic.twitter.com/6j0m7lBi2i

— 🇮🇳 (@RofiedAyush) October 22, 2023
Show me a more selfish cricketer than Virat Kohli, I'll wait…. 🔔#INDvsNZ pic.twitter.com/4szr0wIWvO

— Hamxa 🏏🇵🇰 (@hamxashahbax21) October 22, 2023
That could have been a run

but

Kohli, you're so selfish 💔

— Jaiky Yadav (@JaikyYadav16) October 22, 2023
Kohli's only fault was not shouting a "NO" loud enough, imo. There was never a run there.. https://t.co/ClE8eZxza8

— Devansh (@DevanshSehggal) October 22, 2023
IT AIN'T KOHLIS FAULT
SURYA KEPT RUNNING WHEN KOHLI SAID NO
don't blame my man
He'll win this for us

— i ❃ ? era (@jhoxmatilda) October 22, 2023
Whose fault was it? Kohli cos he was ball watching or sky as he didn't even see where the ball was?

— R🧉 (@NoRun7777) October 22, 2023
Both Sky and Kohli are to be blamed for the messed up runout from yest but I fault Sky more for it. He got a chance at the highest platform & he played a tap & run style gully cricket when there was no pressure of runrate. Kohli for his fault didn't send him back.

— Ritesh (@lalanritesh) October 23, 2023
Not Surya's fault, it was a run until the fielder saved it quite brilliantly. Also, there was no eye contact I'm sure if it were a bilateral series Kohli would've got run out. But today, he must stay. Tough luck Surya 🥹

— Aryan Pandey (@imaryan_1828) October 22, 2023
Match result and implications
Despite the run-out controversy, India managed to register victory by four wickets. Kohli contributed significantly with his 95-run innings, and Ravindra Jadeja's unbeaten 39 played a crucial role in the win. This victory propelled India to the top of the points table, bringing them one step closer to securing a spot in the semi-finals of the tournament.
Also READ: Virat Kohli and Rohit Sharma passionately hug each other after India's victory over New Zealand

#World #Cup #Netizens #react #Virat #Kohli #Suryakumar #Yadavs #terrible #mixup #Zealand